Cherie Priest is an amazing and award-winning horror author — one whose resume, outside of amazingness and awards, is very hard to sum up. She's published over twenty books since 2007, in genres ranging from "young adult thriller comic" (I Am Princess X, 2015) to "steampunk zombies" (her Hugo-nominated 2009 novel Boneshaker). I was drawn to Priest's work, predictably, through a more traditional vein: She writes really, really great haunted houses.
Priest's 2016 book, The Family Plot, about a home salvage team stripping an evil Southern mansion for parts, was the only thing that got me through a horrific move. Her latest YA book, The Agony House (illustrated by Tara O'Connor) returns to the hybrid novel-slash-comic form of I Am Princess X to tell yet another haunted house story — about Denise, a New Orleans teenager who finds a banned comic book and/or unspeakable evil living in the attic of her new house.
I spoke to Priest by e-mail about the possibilities of the "feminist Gothic," strong female characters and weak male ones, and what it takes to create a haunted house that feels like somebody's actual home.
The first book of yours that I read was The Family Plot, from 2016, which is very much a haunted-house story. The Agony House is, unsurprisingly, also about a house. What is it about that particular genre that appeals to you?
I moved a lot as a kid. My dad was in the army, but he and my mother divorced when I was small and then I bounced back and forth between them, all over the country, until I went off to college - and after that? I mostly rented garbage apartments, packing up and heading for someplace new every two or three years as the rent went up or my situation changed. So I definitely find some weird romance in the idea of having a family home, the kind you grow up in - the kind you return to for holidays. The kind that gets passed down and kept in the same family that built it, ages before. But right alongside the warm fantasy of a family home... is all the baggage that comes with such a place. All the drama, all the births, all the deaths, all the people who've passed through the place as guests. A good haunted house is a place that's been seasoned with stories. It's a four-walled microcosm of the human experience.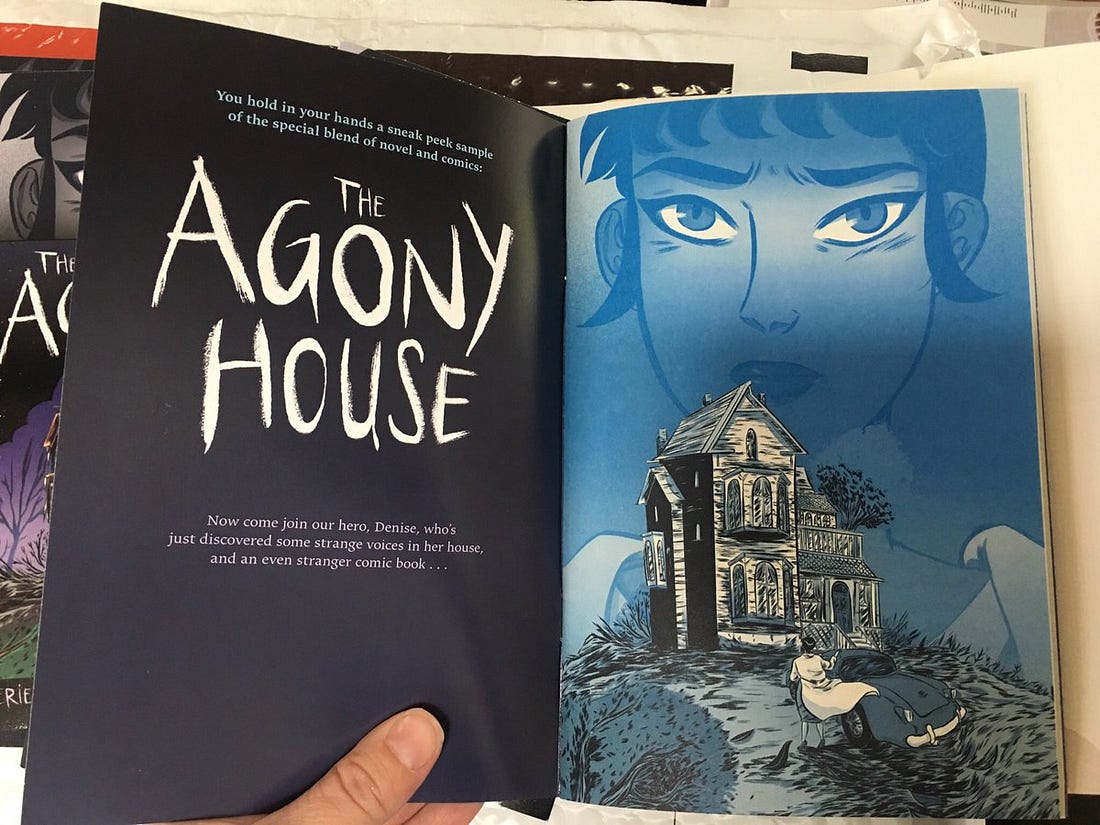 One thing about your haunted houses, which makes them unique, is that they are very real places. You explain what sort of wood the staircase is made of, and why it matters. You make sure we know whether the rooms are air-conditioned or not, whether there's mold or asbestos. The Agony House has something horrible up in the attic, but we also spend a lot of time learning about the New Orleans real estate market and gentrification. It's that Stephen King tradition of horror realism — your houses don't feel like nightmares or surreal staging grounds, they feel like actual old houses that happen to have dead people in them. How do you set about designing a haunted house?
Broadly speaking, a haunted house needs two things besides the spectral dead — history and context. Since you mentioned Stephen King, his story 1408, and the resulting movie, are an excellent study in something in that vein that I find difficult to articulate. The eponymous location is just an evil hotel room (as Samuel L. Jackson so bluntly informs John Cusack) but it could be any room, in any hotel, in any city. It's the details that set it apart. The room 1408 has the same shampoo, individually wrapped bars of soap, the triangle-folded toilet paper edges, and rolled-up towels as any other hotel room. But it also has an unhinged malevolence, a gleeful cruelty, and malicious tendency to dangle hope. It is an abattoir dressed as a DoubleTree. Hell, it's done so nicely that you don't need much in the way of motive to sell it — and that's quite a trick, in my opinion.
Likewise, you can take literally any house and say that it's haunted — and tell a story about ghosts, set inside it — but if you want the physical location to be its own character and/or a credible participant in the narrative, it's worth explaining how it got the way it is, and why that matters in the grander scheme of things. The devil is in the details, and so is everything else.
When it comes to the mystery in The Agony House, it wasn't enough to give the kids a comic book full of clues. The mystery in the comic only makes sense when you know about the woman who lived in the house, and the man who was in her life, and the difficulties she faced in her career. The house only makes sense when you know that it's in a neighborhood full of largely lower-income people of color who are wary of newcomers, in a city that's still recovering from a storm that hit a dozen years ago, in a region with an especially dark history with regards to race and money and power.
A good haunted house should be anchored by details to a place, to a time, to a person or family, or even an event. These are heavy things — the "weight of history" and all that — and heavy things give even the most mundane places the gravitas necessary to hold up under the weight of a ghost story.
Haunted houses are a very gothic trope — and gothic horror is a very feminine genre, all about home and family and the dangers of intimate relationships. But where a traditional gothic heroine is typically working to uncover some horrible secret within her family, your heroines are often dealing with the ghosts of women from prior eras in history, and the injustices they faced. The Family Plot is about unplanned pregnancy; The Agony House is about a time in history when stories about rebellious, competent women were censored and erased. Is there such a thing as a feminist gothic? Are you setting out to write them?
I don't know if "feminist gothic" is a formal sub-genre or not, but I'm quite happy to plant a flag and rally my stories beneath it. (Along with fellow gothic-enthusiasts like Leanna Renee Hieber, for example.)
I enjoy writing gothics because they hit two of my storytelling sweet spots: ghosts, and people who lack agency. The desperate girl who takes a job as a live-in housekeeper for a mysterious old man; the second wife who figures out that something terrible happened to the first Mrs. So-And-So, but won't bring it up for fear of meeting the same fate; the governess whose young charges never dare speak of what happened to their mother. More often than not a gothic heroine is the second wife, or a governess, or stepdaughter... someone living in the house who isn't native to it; someone half a step down in a family hierarchy, with less power and fewer options.
When a gothic's secret is dragged into the light, the spell typically is broken and violence ensues. There's at least a climax, possibly an escape, and definitely some bloody mayhem. So the trick (if you should find yourself trapped in a gothic drama, I suppose) is to aggressively ignore the secret until you can escape it. Or barring that, ignore it until it becomes someone else's problem... or until everyone who gives a damn about it is dead. Once that happens, it's up to some unrelated player to take the stage and excavate the mystery, exhume the ghosts, and so forth.
That's how The Family Plot and The Agony House are both set up: the women who drive those books didn't participate in the events that led up to the hauntings; they happen to stumble upon — and are effectively saddled with — the aftermath thereof.
At its core (at least from a certain slant) a gothic is horror story about being poor and vulnerable, and lacking options. With the addition of, like, billowing gowns and craggy moors and stuff. But a female gothic heroine - or a feminist one, specifically (I would argue), takes initiative to excavate the secrets even when they aren't hers, and even when it might be dangerous to do so. That's where my favorite part of the story happens. I don't know why. Maybe I'm just nosy.